ADNOC Awards Occidental First Onshore Exploration Block in Abu Dhabi's Competitive Bid Round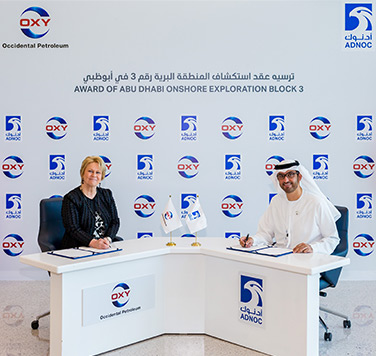 Abu Dhabi, UAE – February 2, 2019: The Abu Dhabi National Oil Company (ADNOC) announced, today, the signing of an agreement, awarding an onshore block – known as Onshore Block 3 – to US based international oil and gas exploration and production company Occidental Petroleum. The award has been endorsed by Abu Dhabi's Supreme Petroleum Council (SPC).

Onshore Block 3 covers an area of 5,782 km2 located in the Al Dhafra region. Existing 3D seismic data already covers a large part of the Block which, combined with its proximity to the Shah, Asab, Haliba and Sahl fields, suggests the concession area has very promising potential.

Following the recent award of Abu Dhabi's two offshore blocks, Onshore Block 3 is the first onshore block to be awarded among the geographical areas that were offered for commercial bidding by ADNOC in April 2018. Abu Dhabi's new block licensing strategy represents a major advance in how the Emirate accelerates the exploration and development of untapped resources to replenish its rich reserves base and drives new commercial opportunities.

Under the terms of the agreement, Occidental will hold a 100 percent stake in the exploration phase, investing AED 893 million (US $244 million), including a participation fee, to explore for oil and gas in Onshore Block 3.

Upon successful exploration – and having established the commerciality of the discovered resources – Occidental will be granted the opportunity to develop and produce any discoveries. ADNOC has the option to hold a 60 percent stake in the production phase of the concession.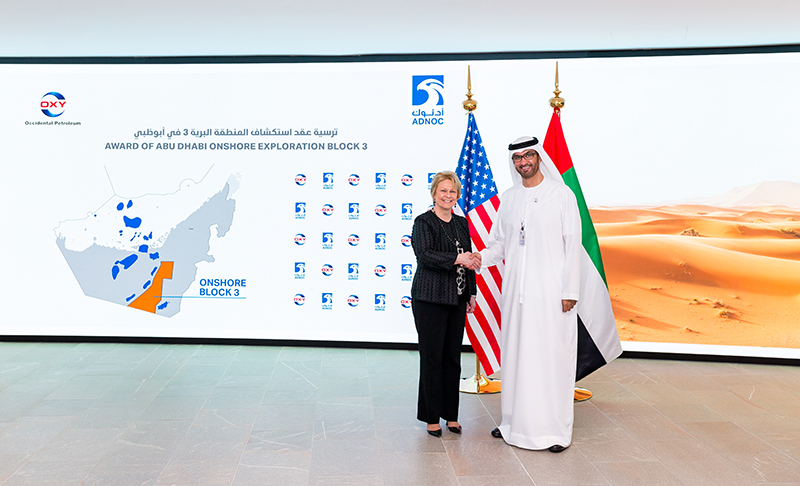 The concession agreement, which has a term of 35 years, was signed by His Excellency Dr. Sultan Ahmed Al Jaber, UAE Minister of State and ADNOC Group CEO, and Vicki Hollub, President and CEO of Occidental.

H.E. Dr. Al Jaber said: "This concession award demonstrates how ADNOC is accelerating the exploration and development of Abu Dhabi's vast untapped hydrocarbon resources. It will help ADNOC to unlock value and stay ahead of the long-term increase in demand for energy and oil and gas products, while further strengthening Abu Dhabi's position as an essential energy provider to the world. The award also signals our continued and increasing collaboration with US companies.

"Occidental was selected after a competitive bid round in which they presented a compelling plan for exploration of the area. Occidental is already a joint venture partner of ADNOC's in the Shah onshore sour gas production and processing, and the award reflects our strategy to develop long-term partnerships with those who want to invest with us across our value chain. It remains at the core of our 2030 smart growth strategy to extract maximum value from Abu Dhabi's resources, and secure robust and sustainable returns to the UAE."

Vicki Hollub, President and CEO, Occidental Petroleum, said: "We are honored to partner with ADNOC to unlock Abu Dhabi's vast untapped resources as part of its smart growth strategy. We have had a successful partnership with ADNOC developing the Shah Gas Field and look forward to continuing to work together on projects of strategic importance."

The exploration phase will see Occidental leverage – and contribute financially and technically to – ADNOC's mega seismic survey, announced last year. The survey is deploying industry-leading technologies to capture high-resolution 3D images of the complex geology up to 25,000 feet below the surface and will be used to identify potential hydrocarbon reservoirs.

All exploration activities in Abu Dhabi are carefully planned to ensure that any potential impacts are mitigated through the implementation of protection measures and use of advanced techniques and technologies to minimize drilling activities in populated or environmentally sensitive areas.

ADNOC collaborates with Occidental in onshore sour gas field development and processing through ADNOC Sour Gas. Established in 2010 to maximize the value of the Shah Gas Field, ADNOC Sour Gas is a joint venture company between ADNOC, which owns a 60 percent share and Occidental, which owns a 40 percent share.

The UAE is the world's seventh-largest oil producer, with about 96 percent of its reserves within the emirate of Abu Dhabi.

Located in one of the world's largest hydrocarbon super-basins, there remains undiscovered and undeveloped potential in the numerous stacked reservoirs.

Based on existing data from detailed petroleum system studies, seismic surveys, log files and core samples from hundreds of appraisal wells, estimates suggest these new blocks hold multiple billion barrels of oil and multiple trillion cubic feet of natural gas.

Some of the blocks already have discoveries, and within the combined area there are 310 targeted reservoirs from 110 prospects and leads. In addition to the country's conventional oil and gas accumulations, some of the offered blocks also contain significant unconventional resource potential.
---
About ADNOC

ADNOC is one of the world's leading diversified energy and petrochemicals groups with a daily output of about 3 million barrels of oil and 10.5 billion cubic feet of natural gas. With 14 specialist subsidiary and joint venture companies, ADNOC is a primary catalyst for the UAE's growth and diversification. For further information: media@adnoc.ae