TAZIZ and Proman Sign Shareholders Agreement
Partnership progresses for world-scale 1.8 million tons per annum methanol production facility at the TA'ZIZ Industrial Chemicals Zone

Growing global demand for methanol is driven by its range of uses, and demonstrated decarbonization potential, unlocking new local manufacturing to 'Make it in the Emirates' and value-add export opportunities

Facility to be one of the most technologically advanced and low-emission natural gas-to-methanol facilities in the world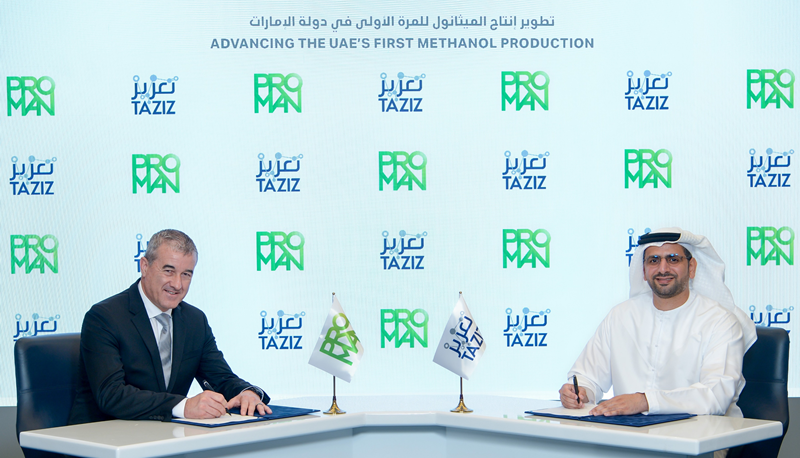 Abu Dhabi, UAE – January 19, 2023: Abu Dhabi Chemicals Derivatives Company RSC Ltd (TA'ZIZ) and PROMAN AG (Proman), one of the world's leading producers of methanol, have signed a shareholders' agreement to develop the UAE's first world-scale methanol production facility at the TA'ZIZ Industrial Chemicals Zone in Al Ruways Industrial City, Abu Dhabi.

The facility has an anticipated annual capacity of up to 1.8 million tons and will meet growing domestic and international demand for this clean and versatile chemical commodity. Methanol has a variety of uses including in fuels, solvents, pharmaceuticals and construction materials and has growing potential as a lower-emission fuel, particularly in the maritime sector.

Khaleefa Yousef Al Mheiri, TA'ZIZ Acting Chief Executive Officer, said: "This agreement continues to build momentum at TA'ZIZ and advances our mission to diversify the UAE's economy and accelerate industrial development. Our partnership with Proman underlines the UAE's attractiveness as a destination for international partners and investors as we progress plans to produce methanol at world-scale in Al Ruways. New chemicals in the UAE will enable new local supply chains and support long-term industrial growth for Abu Dhabi's private sector."
Methanol production in the UAE is in line with the Ministry of Industry and Advanced Technology's mission to diversify the UAE's economy and accelerate industrial development. Growth of this versatile chemical is expected to be driven by emerging economies in Africa and Asia, while in the UAE it will support decreased reliance on imports, enabling local manufacturers to "Make it In the Emirates" and establish greater resiliency among domestic supply chains.
Richard Brink, Managing Director Proman in the UAE, said: "We welcome the shareholders' agreement, which is a vital next step towards Abu Dhabi's first world-scale methanol plant. As well as being Proman's first investment in the UAE, we are working to ensure that this proposed project will be one of the most technologically advanced and low-emission natural gas-to-methanol facilities in the world. With growing global demand for methanol as a cleaner fuel, this agreement demonstrates the huge potential for the TA'ZIZ Industrial Chemicals Zone and Abu Dhabi's evolving downstream industry."

TA'ZIZ continues to advance at pace with site preparation underway and a Joint Venture incorporation agreement for the development of a world-scale ethylene dichloride (EDC), chlor-alkali, polyvinyl chloride (PVC) production facility signed with Reliance Industries Limited and Shaheen Chem Holdings Investments LLC (Shaheen). Fertiglobe, Mitsui & Co., Ltd (Mitsui) and GS Energy Corporation (GS Energy) are also partnering with TA'ZIZ to develop a world-scale low-carbon ammonia facility.

The total investment in the first phase of TA'ZIZ will be in excess of $5 billion (AED18 billion), with most of the chemicals produced in the UAE for the first time. All agreements are subject to regulatory approvals.

Launched at the end of 2020, by ADNOC and ADQ, TA'ZIZ is driving and enabling expansion of Al Ruways Industrial City, as well as Abu Dhabi's wider chemicals, manufacturing and industrial sectors.