ADNOC Uses Innovative Drone Technology to Plant Mangroves
New contract to enable planting of 2.5 million mangrove seedlings across Abu Dhabi

Placing sustainability at the center of its growth, ADNOC supports the UAE Net Zero by 2050 Strategic Initiative

ADNOC is on target to plant up to 10 million mangrove seedlings in Abu Dhabi by 2030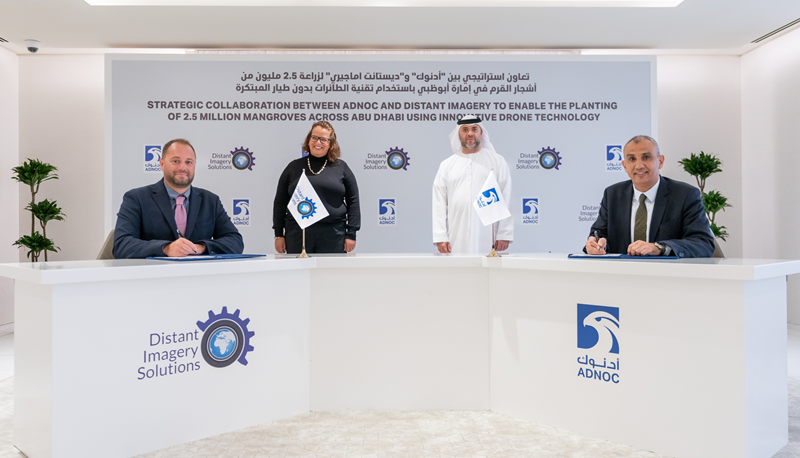 Abu Dhabi, UAE – January 18, 2023:
ADNOC, a reliable and responsible provider of lower-carbon intensity energy, today announced at the Abu Dhabi Sustainability Week (ADSW) it has signed a contract with Distant Imagery, a UAE-based environmental technology company, to plant 2.5 million mangrove seedlings across Abu Dhabi using innovative drone planting technology adopted by the Environment Agency - Abu Dhabi (EAD).
The new contract, that comes within the framework of the Abu Dhabi Mangrove Initiative and the existing partnership with EAD, enables ADNOC to accelerate its mangrove planting activities by deploying drones that can disperse over 2,000 mangrove seeds in roughly eight minutes, reinforcing the company's commitment to plant up to 10 million mangroves in Abu Dhabi by 2030.
Ibrahim N. Al Zu'bi, Senior Vice President of Sustainability & Climate at ADNOC, said: "Through our Net Zero by 2050 ambition, we are placing sustainability at the center of our growth and we are building on our proud legacy of environmental stewardship to create lasting and sustainable value for the UAE and its people. Mangroves can provide a living defence against the impact of climate change, by preventing erosion, stabilizing Abu Dhabi's coastlines and enhancing biodiversity, as well as significantly contributing to the quality of life in the area for future generations."
As part of the first phase of the program, special custom-built drones and rigging equipment, built by Distant Imagery and supported by EAD, were used to plant more than 200,000 mangrove seeds in Abu Dhabi's Mirfa coastal lagoon. The germination and growth of the mangroves will be monitored for the next year; in parallel ADNOC will proceed with aerially planting a total of 2.5 million mangroves over three years.
Ahmed Alhashmi, Executive Director of Terrestrial and Marine Biodiversity Sector at EAD, said: "This ADNOC-driven project of planting 2.5 million mangrove seedlings in different areas across Abu Dhabi will contribute greatly to the larger emirate-wide Abu Dhabi Mangrove Initiative, as well as to Abu Dhabi's contribution to the UAE's national goal of planting 100 million mangroves by 2030. ADNOC has always been a longstanding and significant partner to us at EAD, and its efforts in ensuring our national goals are met are crucial. We are looking forward to working with ADNOC on this mangrove project to ensure that we all achieve our objectives of combatting climate change through nature-based solutions as mangroves are very resilient and are hugely important thanks to their qualities as effective carbon sinks. We at EAD are always grateful when we witness large organisations implementing best practices and placing environmental conservation at the top of their sustainability agendas for Abu Dhabi's greater good."
An extensive volunteer programme will be part of ADNOC's mangrove planting initiative, with opportunities for volunteers to participate in each point of the planting process, from picking seeds to helping monitor the growth of the mangroves.
Jane Glavan, Co-Owner of Distant Imagery, said: "Rehabilitating mangrove ecosystems is an effective way to mitigate the effects of climate change and restore natural habitats and biodiversity. At Distant Imagery, we are taking an ecological-restoration approach to the mangrove planting, from site selection to planting patterns, and we are honored to be involved in such an impactful project that supports ADNOC's Net Zero by 2050 ambition and promotes Abu Dhabi's natural ecosystem."
ADNOC is committed to leveraging nature-based solutions as integral, ready and cost-effective offsets in support of climate change adaptation, mitigation and resilience, balancing energy systems and blue carbon ecosystems. In collaboration with the Environment Agency Abu Dhabi, ADNOC has been restoring mangrove ecosystems for over a decade and has planted approximately 2 million mangrove seedlings at its operational sites and accross Abu Dhabi, helping to restore these natural carbon sinks. These efforts support the UAE's aim to plant 100 million mangroves by 2030, as well as the United Nations conventions on conserving biodiversity.