ADNOC Signs Agreements with 30 Companies for Local Manufacturing Opportunities Worth up to AED10 Billion
Agreements with UAE and international companies support ADNOC's target to locally manufacture AED70 billion of industrial products in its supply chain

Supply chain localization will stimulate industrial growth, create more private sector jobs for UAE Nationals and accelerate decarbonization of ADNOC's operations

Private sector encouraged to capitalize on commercial opportunities across ADNOC's value chain at its 7th annual Business Partnership Forum at ADIPEC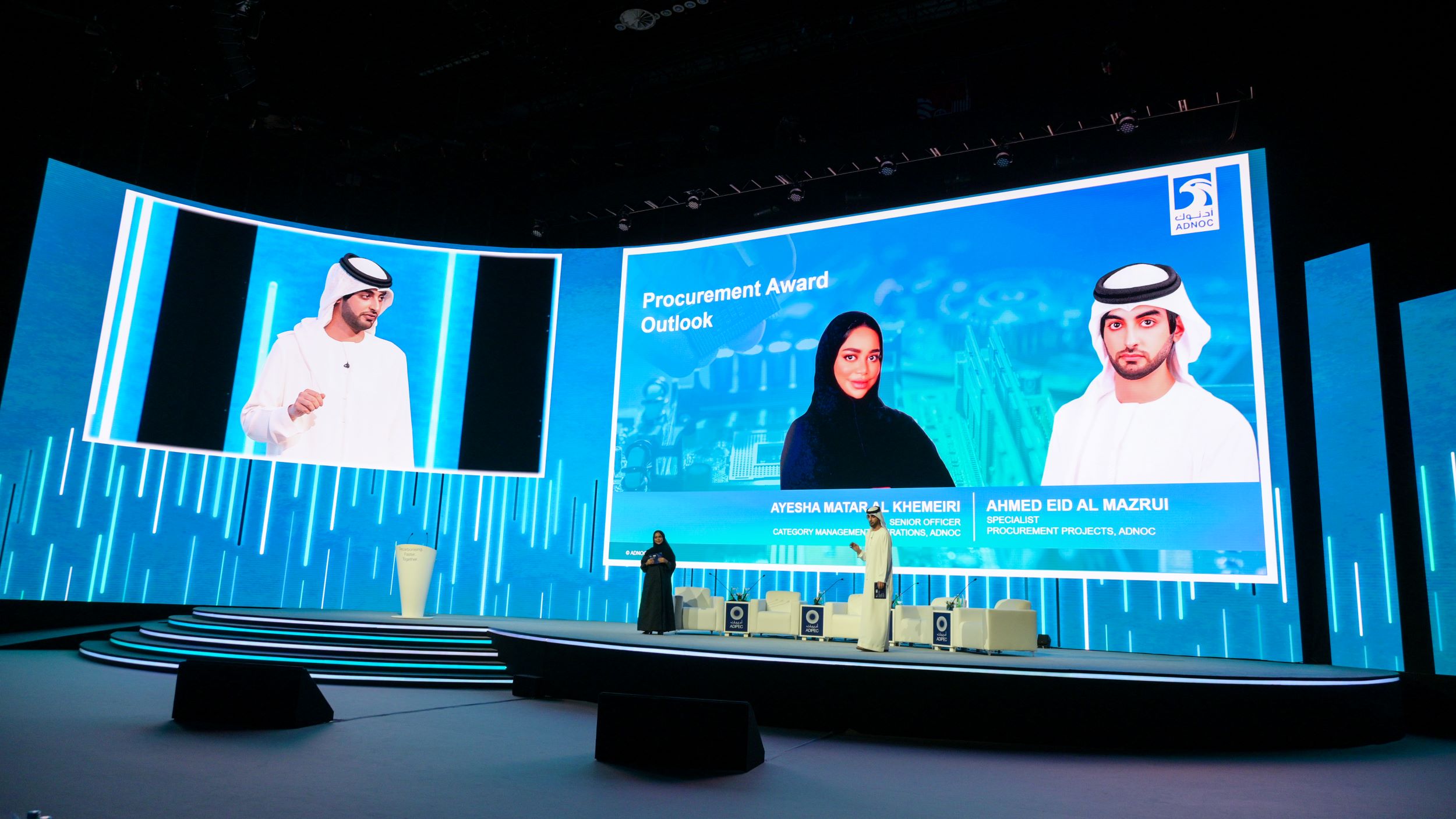 Abu Dhabi, UAE – October 5, 2023: ADNOC has announced new agreements with 30 companies for local manufacturing of critical non-oil products in its supply chain as it accelerates the decarbonization of its operations. The announcement was made at ADNOC's 7th annual Business Partnership Forum held at ADIPEC, the world's largest energy industry gathering taking place in Abu Dhabi.

The new agreements, outline the companies' intention to locally manufacture products potentially worth up to AED10 billion ($2.7 billion) in ADNOC's supply chain. The agreements support its target to locally manufacture AED70 billion ($19 billion) worth of products in its procurement pipeline by 2027 as part of the 'Make it in the Emirates' initiative. The agreements will stimulate industrial growth, create more private sector jobs for UAE Nationals and strengthen the resilience of ADNOC's supply chain.

His Excellency Ahmed Jasim Al Zaabi, Chairman of the Abu Dhabi Department of Economic Development, said: "Abu Dhabi's soaring 'Falcon Economy' has proved its mettle in weathering global headwinds, achieving strong growth across various sectors and providing a business-friendly ecosystem that attracts investors from around the world to the industrial sector. ADNOC's localization of its supply chain is consistent with our diversification strategy and the Abu Dhabi Industrial Strategy (ADIS), which is accelerating the UAE manufacturing sector's transformation and strengthening its position as the region's most competitive industrial hub.

"These efforts have helped to increase the contribution of the non-oil sectors to 53% of Abu Dhabi's total GDP by the end of Q1 2023. We are continuing to roll out initiatives to develop a homegrown supply and value chain to further enhance the industrial investment ecosystem and meet investors' needs. We encourage manufacturers and entrepreneurs to continue to capitalize on the opportunities ADNOC is creating to support the 'Make it in the Emirates' initiative."

His Excellency Omar Ahmed Suwaina Al Suwaidi, Undersecretary of the Ministry of Industry and Advanced Technology, said: "The UAE boasts a competitive industrial sector that is delivering innovative products and advanced technology. Localizing key supply chains is essential to ensuring we continue to strengthen and diversify our economy. ADNOC's Business Partnership Forum highlighted great opportunities for suppliers to open or expand their facilities in the UAE, where they can access world-class infrastructure, a strategic business location and a variety of clean energy products, including cost-effective solar PV panels, green hydrogen products and batteries."

Yaser Saeed Almazrouei, ADNOC Executive Director, People, Commercial and Corporate Support Directorate, said: "ADNOC is a critical driver of the UAE's industrial growth, and we are creating a wealth of local manufacturing opportunities for the private sector, as we work towards a lower carbon future. The new agreements we have signed for local manufacturing opportunities offer the potential to enhance the UAE's industrial base, drive significant value back into the economy and create high-skilled private sector jobs for UAE Nationals. As we accelerate the decarbonization of our operations, we are creating billions of dirhams in local manufacturing opportunities, and we invite the private sector to take advantage and join us in our industrial growth journey."

Among the products that will be produced locally under these agreements are Personal Protective Equipment, which will enhance the safety of operations across all ADNOC Group companies. Battery energy storage systems and Uninterrupted Power Supply (UPS) equipment will also be manufactured in the UAE, enabling the replacement of diesel generators with more sustainable energy at ADNOC Onshore, ADNOC Offshore and ADNOC Drilling.

Over 1,000 people attended the Business Partnership Forum, where ADNOC showcased billions in local manufacturing opportunities across its procurement award outlook for the next two years. Local manufacturing of industrial products gives ADNOC greater flexibility to respond to market dynamics as the company decarbonizes its operations and invests in lower-carbon energy solutions.

ADNOC's In-Country Value (ICV) program provides incentives to suppliers to adopt clean technology while setting up new manufacturing facilities in the UAE as part of its Net Zero by 2045 ambition. The ICV program has driven AED145 billion ($39.5 billion) back into the UAE's economy since 2018.

# # #