ADNOC and Santos to Pursue Global CCS Platform to Accelerate Net Zero Goals
Companies sign strategic collaboration agreement to work towards the establishment of a global carbon management platform

Agreement focuses on potential collaboration on carbon capture technologies, global CCS projects and innovative solutions for shipping and transporting CO2

Collaboration builds on ADNOC's strategy to leverage carbon management partnerships and technology to accelerate the company's decarbonization plans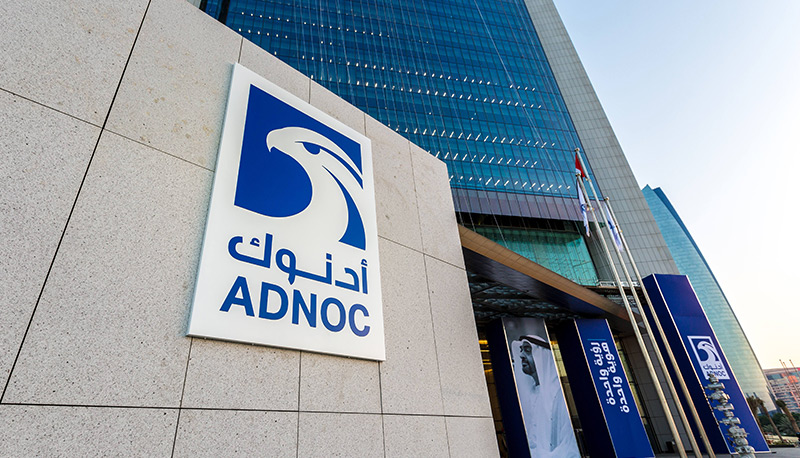 Abu Dhabi, UAE – November 21, 2023: ADNOC and Santos today announced the signing of a strategic collaboration agreement (SCA) that outlines a pathway towards the potential development of a joint global carbon management platform that could support the decarbonization journey of customers throughout Asia-Pacific.

Additionally, the SCA provides for the companies to work together to advance critical carbon capture and storage (CCS) technologies that are necessary to accelerate the decarbonization of industry worldwide. The parties will also explore the development of a carbon dioxide (CO2) shipping and transportation infrastructure network to enable heavy-emitting sectors capture, ship and permanently store CO2.

Musabbeh Al Kaabi, Executive Director, Low Carbon Solutions and International Growth, ADNOC, said: "ADNOC continues to build on its pioneering role in safely capturing and permanently storing carbon dioxide as we accelerate toward net zero by 2045 and target CCS capacity of 10 million tonnes per annum (mmtpa) by 2030. Through this partnership, ADNOC and Santos will work together aiming to scale-up the carbon management technologies of the future while leveraging our combined expertise and experience in safely transporting, capturing and storing carbon to help markets in the Asia-Pacific decarbonize."

ADNOC currently operates the Al Reyadah facility, which has the capacity to process 800,000 tonnes of CO₂ per year. The company recently announced one of the largest carbon capture projects in the Middle East and North Africa region at the Habshan facilities, and a carbon capture project at its Hail and Ghasha offshore development, taking its committed investment for carbon capture capacity to almost 4mtpa.

Alan Stuart-Grant, Energy Solutions Executive Vice President, Santos, said: "Large scale-up of CCS is required to meet the world's climate objectives and companies like Santos and ADNOC have the technology, infrastructure and knowledge to be able to deliver low-cost CCS and low-carbon energy competitively on a global scale. There is an enormous opportunity for traditional energy suppliers like Australia and the UAE to be at the forefront of helping regional decarbonization through utilization of our natural competitive advantages in carbon storage and energy supply chains. Through this collaboration, we will support the transition toward a low-carbon future that is both reliable and affordable."

This agreement follows ADNOC's recent agreements to explore CCS and direct air capture (DAC) projects in the UAE, and internationally, and supports the company's wider carbon management strategy. ADNOC is targeting a carbon capture capacity of 10mtpa by 2030, equivalent to taking over 2 million internal combustion vehicles off the road.

# # #