ADNOC Signs MoU Agreements with OMV and Borealis in the Presence of Abu Dhabi's Crown Prince Sheikh Mohamed bin Zayed and Austria's Chancellor Sebastian Kurz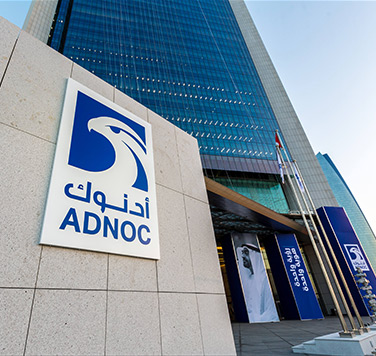 Abu Dhabi, UAE – March 23, 2019
: The Abu Dhabi National Oil Company (ADNOC) signed, today, two Memorandum of Understanding's (MoUs) with OMV and one MoU with Borealis to explore new opportunities for collaboration in the downstream sector. The signing of the agreements was witnessed by His Highness Sheikh Mohamed bin Zayed Al Nahyan, Crown Prince of Abu Dhabi and Deputy Supreme Commander of the UAE Armed Forces, and His Excellency Sebastian Kurz, Federal Chancellor of Austria.
The agreements with OMV were signed by His Excellency Dr. Sultan Ahmed Al Jaber, UAE Minister of State and ADNOC Group CEO, and Dr. Rainer Seele, Chairman of the OMV Executive Board and CEO. The agreement with Borealis was signed by H.E. Dr. Al Jaber and Alfred Stern, Borealis CEO.
Under the terms of the first MoU, ADNOC and OMV will evaluate new opportunities in petrochemical projects as a potential extension to their existing partnerships, and exchange knowledge and experience in refinery-petrochemical integration and optimization. The two companies will also assess opportunities for petrochemicals marketing support.
The second MoU will see ADNOC and OMV jointly explore the potential of OMV's ReOil technology in Ruwais, ADNOC's integrated refining and petrochemicals hub in the Al Dhafra region of Abu Dhabi. OMV's ReOil recycling process produces synthetic crude oil from used plastics.
The third MoU will see ADNOC and Borealis jointly explore potential growth opportunities within the integrated polyolefin industry in key geographical markets. They will partner to build on their strength which has successfully contributed to the growth of Borouge over the last 20 years to support the growth of customers in key markets through value creation and innovation.
H.E. Dr. Al Jaber said: "The agreements with OMV build on, and further strengthen, our long-term partnership across the full oil and gas value chain. OMV brings world-class expertise and advanced technology that will enable us to further stretch the value of our crude and secure greater returns from the global growth in demand for petrochemicals as we accelerate delivery of our 2030 smart growth strategy. This is yet another stepping stone in our journey to grow ADNOC's downstream portfolio and establish Ruwais as a global refining and petrochemicals hub."
"In line with our downstream expansion strategy, ADNOC is pursuing investments that will maximize value from our existing resources and secure more effective market access for our expanding portfolio of products. The proposed agreement with Borealis, an existing strategic partner will potentially create growth opportunities for our mutual benefit, and ensure we are well positioned to meet the growing demand for a variety of high-value refined and petrochemical products.
Dr. Seele said: "These agreements underline our commitment to the strategic partnership with ADNOC and our readiness to bring expertise and add value to this collaboration. Moreover we are following our strategy of expanding the value chain and further strengthening our petrochemical business, as well as contributing to CO2 reduction through the circular economy concept of our ReOil process."
Alfred Stern said: "We want to build on our joint success in Borouge and continue to deliver 'value creation through innovation'. A sustainable development in Asia and the Middle East will show an increasing need and demand for high value, innovative polyolefin solutions. Borealis' proprietary technologies and market expertise can make significant contributions to the successful development of our partnership with ADNOC. As a committed, long-term partner to the UAE, Borealis and ADNOC have successfully built our joint venture Borouge. Building on our fruitful collaboration, we look forward to discovering value-add opportunities in the polyolefin industry with our trusted partner ADNOC, servicing our customers around the globe."
ADNOC and OMV collaborate in several areas across the full value chain from upstream to downstream. In January, OMV acquired a 15 percent share in ADNOC refinery in a transaction that values ADNOC Refining at an enterprise value of US$ 19.3 billion. This followed an award by ADNOC to OMV in December 2018 of a 5 percent stake in the Ghasha ultra-sour gas concession for 40 years and 20 percent stakes in the SARB and Umm Lulu oil fields offshore concessions in April 2018.
Since 1998, ADNOC and Borealis have collaborated as joint venture partners in Borouge. Borouge is a leading petrochemicals company that provides innovative plastics solutions for several industries. With 4.5 million tonnes of annual capacity, Borouge is the world's largest integrated polyolefin complex.
As part of its 2030 smart growth strategy, ADNOC has recently embarked on a significant expansion of its downstream business. At the center of its new downstream strategy is a $45 billion investment plan aimed at creating the world's largest integrated refining and petrochemicals complex in Ruwais, which will see the company triple production of petrochemicals to 14.4. million tons per annum by 2025. Ruwais' appeal as a unique feedstock engine, capable of producing the full range of essential building blocks along the petrochemical value chain will see the Ruwais Derivatives and Conversion Parks become a global destination of choice for investors and manufacturers wishing to establish a presence in the UAE.
ADNOC's expansion and new investment in the downstream will accelerate the delivery of its 2030 strategy and create a more flexible, resilient and diverse energy business, optimizing its performance and stretching the dollar from every barrel of oil it produces. Furthermore, the downstream strategy will also act as another catalyst for Abu Dhabi's economic growth and diversification plans, attracting new foreign and domestic investment, creating numerous specialized employment and career opportunities, and significantly boosting ADNOC's in-country value creation initiatives.
---
About ADNOC

ADNOC is one of the world's leading diversified energy and petrochemicals groups with a daily output of about 3 million barrels of oil and 10.5 billion cubic feet of natural gas. With 14 specialist subsidiary and joint venture companies, ADNOC is a primary catalyst for the UAE's growth and diversification. For further information: media@adnoc.ae