UAE's AI Minister Visits ADNOC's Artificial Intelligence and Big Data Centers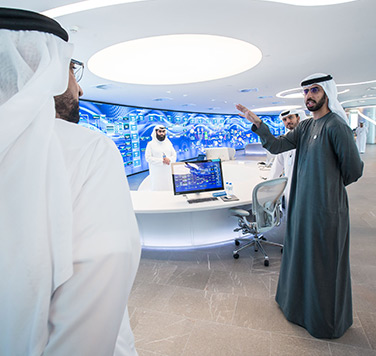 Abu Dhabi, UAE – February 20, 2018: UAE Minister of State for Artificial Intelligence, H.E. Omar bin Sultan Al Olama has visited the Abu Dhabi National Oil Company's (ADNOC) Panorama Digital Command Center and Thammama Subsurface Collaboration Center to see how the company is using big data technologies and, increasingly, artificial intelligence to help extract maximum value from its assets and resources.

During his visit to ADNOC's corporate headquarters, in Abu Dhabi, H.E. Al Olama was given insights into the organisation's digital transformation and how ADNOC is advancing the use of advanced technologies and applications, such as machine learning, neural networks, and predictive data, to increase productivity, stimulate growth and unlock new solutions that will shape and define the oil and gas value chain in future.
ADNOC recognises the application of the latest technologies is a key enabler for delivering its 2030 smart growth strategy, which is creating a more profitable Upstream, a more valuable Downstream and ensuring a more economic and sustainable supply of gas. In line with the UAE leadership's vision to become a world leader in the use of advanced technology, ADNOC is making significant investments in AI, and big data, as well as developing its specialist workforce, as it continues to further maximize value from its operations.
H.E. Al Olama said the UAE aims to become a regional hub for AI and to deploy practical applications of the technology for the benefit of the nation. "ADNOC's regional leadership, focusing on the real-time use of advanced technologies such as AI and predictive data, demonstrates how both can be used to create long-term and sustainable value that will ensure ADNOC continues to be an integral part of the UAE economy for decades to come."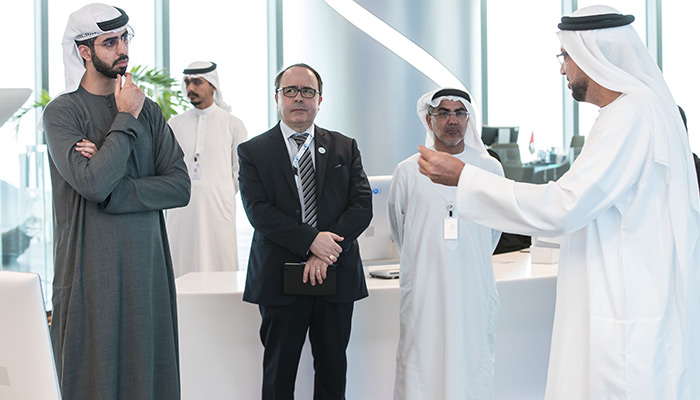 ADNOC's Panorama Digital Command Center draws from a massive set of data points across the company, from the upstream to the downstream and global distribution network, visualizing it on a state of the art 50-meter wide video wall to provide a single access point to ADNOC's real time performance.

Using smart analytical models and, increasingly, leveraging advanced AI platforms, it uses big data to generate operational insights and recommend new, integrated pathways to optimize and enhance performance and create additional value. The center aggregates accurate, real time information from ADNOC's operations and businesses, presenting data at a Group-wide level but also giving access to information from individual assets.

In the Thammama Subsurface Collaboration Center, which is integrated with Panorama, ADNOC is adopting smart analytics and adopting AI platforms to solve subsurface challenges. The center is helping to unlock resources and optimize field development plans, as well as reduce drilling cost and manage production capacity across ADNOC's onshore and offshore operations.

It is equipped with smart data analytics to build dynamic models of the subsurface that help specialists develop a more detailed understanding of Abu Dhabi's reservoirs. Thammama can monitor up to 120 live drilling sites simultaneously, comparing performance against historical wells, plans and benchmarks to reduce drilling costs, improve rig efficiencies, and increase productivity.

H.E. Al Olama's visit to ADNOC, coincided with the inaugural ADNOC Strategic Innovation and Technology Summit (SIT Summit), held to identify and drive advanced technology solutions.

The one-day forum drew on the expertise and experience of technology experts from ADNOC and its strategic international partners, who highlighted how advanced technologies can accelerate ADNOC's delivery of its 2030 strategy. Live technology demonstrations showcased the very latest technology applications, trends and best practices in the application of technologies in the energy industry.

As an outcome of the summit, ADNOC will develop the 'One ADNOC' Innovation and Technology Strategy Roadmap, streamlining initiatives across the ADNOC group to extract the greatest value from its assets and resources.