ADNOC Awards Two Major Contracts to Korean Company Samsung Engineering Worth Over USD 3.5 Billion dollars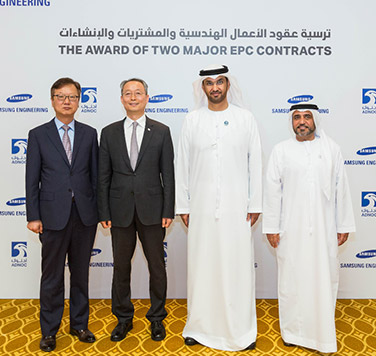 Abu Dhabi, UAE – March 26, 2018:
On the occasion of the visit to the United Arab Emirates (UAE) of His Excellency Moon Jae-in, President of the Republic of Korea, Abu Dhabi National Oil Company (ADNOC) announced, today, the signing of two major contracts between ADNOC Refining, a wholly owned subsidiary of ADNOC, and Samsung Engineering Co., Ltd, worth a total value in excess of USD 3.5 billion.
The signing of the two agreements was witnessed by H.E. Dr. Sultan Ahmed Al Jaber, UAE Minister of State and ADNOC Group CEO, and H.E. Paik Ungyu, Minister of Trade, Industry and Energy, Republic of Korea. The agreements were signed by Abdulaziz Alhajri, ADNOC's Downstream Director, and Choi Sung-An, CEO of Samsung Engineering.
The two contracts – the award of a USD $3.1 billion project to introduce crude oil processing flexibility and the award of a USD $473 million project to recover power and water, both at the ADNOC-owned Ruwais oil refinery – mark another significant step forwards as ADNOC accelerates the delivery of its Downstream strategy.
H.E. Dr. Al Jaber said: "ADNOC has a long and successful history of working with Korean companies as partners in our concession areas, as contractors for our major projects, and as a customer of our crude oil and refined products. The award of two major Engineering, Procurement and Construction (EPC) contracts reinforces the strong business relationship that exists between the UAE and Korea.
"As ADNOC continues to deliver on its 2030 smart growth strategy, a number of new and exciting opportunities exist across our value chain, particularly in the downstream, which offer the potential to deepen and develop the longstanding relationship between ADNOC and its Korean counterparts."
H.E. Paik Ungyu said: "We offer congratulations on the signing between Samsung Engineering and ADNOC Refining. I hope that these contracts will not only enhance bilateral cooperation in the energy industry, but will also contribute to identifying new joint projects."
The first of the two new contracts awarded by ADNOC (ADNOC Refining) to Samsung Engineering was an EPC contract for a crude oil processing flexibility project.
Scheduled to be completed by the end of 2022, this project will enable ADNOC's Ruwais Refinery-West complex to process up to 420,000 bpd of Upper Zakum crude, or similar crude types from the market, allowing ADNOC to extract greater value from its crude resources by liberating Murban crude, which commands a higher price on global oil markets, to be utilised for export sales.
The second contract awarded, also by ADNOC Refining to Samsung Engineering, was an EPC contract for a new Waste Heat Recovery Project. This project, scheduled for completion by the end of 2023, will generate an additional 230 MW of electricity for sale and 62,400 m3 water daily by capturing waste heat, which is currently vented into the atmosphere, by upgrading four giant gas turbines with closed-cycle power generation technology. The project will play a significant role in reducing the environmental impact of ADNOC's refining and power operations, whilst improving energy efficiency.
In line with the standard selection criteria for all EPC contracts, ADNOC Refining carefully reviewed the In-Country Value (ICV) component of all bids submitted for both of the awarded contracts. ICV was a critical consideration in the tender evaluation and contractor selection process. ADNOC's ICV strategy seeks to stimulate private sector partnerships and opportunities resulting from ADNOC's 2030 growth strategy, catalyze socio-economic development, improve knowledge transfer and create additional employment for UAE nationals. It reinforces the company's commitment to supporting local businesses and their role in driving economic diversification and GDP growth.
ADNOC is making significant investments in new downstream projects to grow its refining capability and expand its petrochemical production three-fold to 14.4 mpta by 2025. Planned projects include a world scale, mixed liquid feedstock Naphtha cracker, as well as investments in new refinery capacity. As a result of the planned expansions in its Downstream business, ADNOC will create one of the world's largest integrated refining and petrochemical complexes at Ruwais, located in Abu Dhabi's Al Dhafra region.
ADNOC will be hosting a major Downstream Investment Forum in Abu Dhabi on the 13th and 14th May 2018, where it will unveil more details of its Downstream Strategy, including the new Ruwais industrial hub masterplan.
In the upstream, Korea's GS Energy was awarded a 3% stake in the ADNOC Onshore concession in May 2015, while Korea National Oil Corporation (KNOC) and GS Energy hold a 40% stake in the Al Dhafra Petroleum concession area, where first crude oil production is expected in 2019.
Korean companies are also an important customer of ADNOC's crude oil and refined products, including LPG, base oil, naphtha and fuel oil. Korea imports around 3 million barrels of crude oil per day, positioning it in the top 5 of global crude importing countries.