Supreme Petroleum Council Approves Key Strategic Investments as ADNOC Expands 2030 Strategy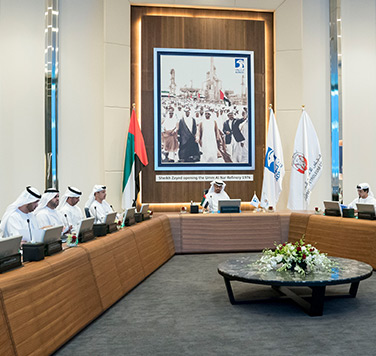 Abu Dhabi, UAE – November 27, 2017
: The Supreme Petroleum Council (SPC), presided over by His Highness Sheikh Mohamed bin Zayed Al Nahyan, Crown Prince of Abu Dhabi and Deputy Supreme Commander of the UAE Armed Forces and Vice-Chairman of the SPC, today approved ADNOC's key strategic investments program and future opportunities, as the oil and gas company expands its 2030 strategy, aimed at unlocking, creating and maximizing value and ensuring smart growth in its upstream, and downstream businesses, while strengthening market access.
The SPC approved ADNOC's plans for capital expenditure of over AED 400 billion, over the next five years, as it embarks on its Upstream and Downstream expansion and growth projects. The SPC also approved ADNOC's plans to explore and appraise Abu Dhabi's unconventional gas resources, as the company seeks to enable future value creation from its untapped gas resources. And, the SPC gave the green light to ADNOC to pursue international downstream investments that will position ADNOC as a global player in the downstream market.
H.H. Sheikh Mohammed reaffirmed ADNOC has the unwavering support of UAE President His Highness Sheikh Khalifa bin Zayed Al Nahyan as it continues to drive the engines of the nation's prosperity by creating long-term, sustainable value, from all of the nation's hydrocarbon resources, to ensure it continues to be an integral pillar of UAE's economy for decades to come.
The SPC is the highest governing body of the oil and gas industry in Abu Dhabi. The council formulates, approves and oversees the implementation of Abu Dhabi's petroleum policy and follows up its implementation across all areas of the petroleum industry to ensure that the set goals are accomplished.
The other SPC members attending the meeting, at ADNOC's corporate headquarters, were H.H. Sheikh Hazza bin Zayed Al Nahyan, Vice Chairman of the Abu Dhabi Executive Council; H.H. Sheikh Mansour bin Zayed Al Nahyan, Deputy Prime Minister and Minister of Presidential Affairs; H.H. Sheikh Hamed bin Zayed Al Nahyan, Chairman of the Court of Abu Dhabi's Crown Prince; H.H. Sheikh Mohammed bin Khalifa bin Zayed Al Nahyan, member of the Executive Council of Abu Dhabi; H.H. Sheikh Dhiyab bin Mohamed bin Zayed Al Nahyan; H.E. Suhail Mohammed Al Mazrouei, UAE Energy Minister, H.E. Dr Sultan Al Jaber, Minister of State and ADNOC Group CEO; H.E. Hamad Mubarak Al Shamsi, Secretary-General of the SPC; H.E. Dr Ahmed Mubarak Al Mazrouei, Secretary General of the Executive Council; H.E. Khaldoun Al Mubarak, CEO and Managing Director of Mubadala; H.E. Riyad Abdul Rahman Al Mubarak, Chairman of the Abu Dhabi Department of Finance and member of the Abu Dhabi Executive Council; H.E. Eng. Awaidha Murshed Al Marar, Chairman of the Abu Dhabi Energy Department and member of the Abu Dhabi Executive Council; H.E. Abdullah Nasser Al Suwaidi, and H.E. Suhail Faris Ghanem Al Mazrouei.
H.E. Dr Al Jaber said: "His Highness Sheikh Mohamed bin Zayed and the SPC's approval of our expanded strategic investment and growth plans signal a further, tangible, acceleration in ADNOC's transformation. It marks the next phase in delivering our 2030 strategy, which will contribute to further maximising value from all our resources, introduce new and significant partnership opportunities and enhance our capabilities to diversify our portfolio of products, as we aim to expand into key growth markets.
"In line with the SPC's directives, over the coming years, we will make strategic, commercially driven and targeted investments, across our entire value chain, aimed at maximizing existing resources, while also identifying and developing new, value-enhancing opportunities. We will continue to strengthen our resilience to the changing energy landscape, while remaining focused on managing our unit cost and driving performance, profitability and efficiency across our business.
"Furthermore, our intention to explore and appraise our unconventional resources, in collaboration with value-add, strategic partners, reinforces ADNOC's objective to further diversify our hydrocarbon assets base and enable value creation through vast untapped resources. We aim to unlock and deliver material and commercially viable production from Abu Dhabi's unconventional resources by 2030, with a focus on gas and gas liquids," H.E. Dr Al Jaber added.
As it accelerates delivery of its 2030 strategy, ADNOC continues to optimize its Upstream operations and drive solutions to maximize recovery from its mature reservoirs, while seeking ways to cost effectively unlock the potential of untapped resources and leverage technology economies of scale to keep the operating cost per barrel at the most competitive level. It remains on track to expand oil production capacity to 3.5 million barrels a day by the end of 2018, and to improve drilling time by 30 per cent by 2019. Enhanced efficiencies have brought ADNOC's leading low production cost down even further, a factor driving interest in the upcoming offshore concessions, which have attracted more than 14 potential partners from across the world.
In gas, ADNOC is focused on ensuring a sustainable and economic supply of gas for the UAE's growing demand. To help achieve this ADNOC will access undeveloped tight reservoirs, tap into its gas caps and expand sour gas production. In addition, it has commenced an exploration drilling programme to explore for, and appraise, the potential of individual gas deposits in tight reservoirs. ADNOC utilizes industry best practice, drives targeted technology application and will invest in the future development of untapped unconventional resources, over the next five years.
ADNOC's refreshed Downstream strategy focuses on additional value creation by pursuing two parallel paths. Domestically, ADNOC will leverage and optimize its existing assets, ensure fuel self-sufficiency and diversify and grow its refining, gas processing and petrochemicals business portfolio. At the same time as expanding its UAE-based downstream operations it will pursue international downstream strategic and commercially viable investments, aimed at reshaping ADNOC into a global company, with an adaptable, resilient portfolio, that delivers maximum value to the shareholder and catalyzes the UAE economy.
H.E. Dr Al Jaber said: "We will engage in strategic, long-term overseas investments across the downstream value chain. Acting alone, or in partnership with others, we will focus on investments that bring attractive returns, grow market access for our products and allow us to develop a truly international footprint."
ADNOC plans to secure additional captive crude processing capacity in growth markets, establish sector specific global businesses and enhance its global marketing activities, including introducing non-speculative asset-backed trading, to further stretch the dollar from every barrel of oil it produces.
In support of its expanded 2030 strategy, ADNOC will grow its crude refining capacity by 60 per cent and more than triple its petrochemical production, to 14.4 mtpa by 2025 through a staged expansion plan aimed at initially optimizing its existing assets to grow and diversify its products portfolio. An aromatics project will convert naphtha, which is currently exported, into gasoline and aromatics and a large project to enhance the crude processing flexibility of its 900,000 bpd refining system will be taken forward.
In chemicals, a new linear alkyl benzene project and a new mixed feed cracker, at Borouge, will enable new value chains to be created. These expansions will make Ruwais the largest integrated refining and chemicals site in the world. When complete ADNOC will convert almost one fifth of its crude to chemicals, diversifying its range of high value products to provide a natural hedge to oil price movements.
Following their meeting, SPC members visited ADNOC's Thammama sub surface collaboration centre, that uses advanced technology to enable the smart decision making necessary to optimize the organisation's performance, drive efficiencies and rationalise costs, across the organisation. The centre is integrated with ADNOC's Panorama Digital Command Centre, which was inaugurated earlier this month by H.H. Sheikh Mohamed bin Zayed.
Through Thammama, ADNOC is using smart analytics and is adopting Artificial Intelligence platforms to solve subsurface challenges and to help unlock more challenging resources and optimize field development plans, as well as reduce drilling time and manage production capacity across its operations. The center is equipped with smart data analytics to build dynamic models of the subsurface that help specialists develop a more detailed understanding of Abu Dhabi's reservoirs to de-risk the opportunities they hold. It has the capability to monitor up to 120 live drilling sites simultaneously, comparing performance against historical wells, plans and benchmarks to reduce drilling costs, improve rig efficiencies, and increase productivity.
The Panorama Command Center draws from a massive set of data points across ADNOC's entire value chain; from the upstream to the downstream and global distribution network, visualizing it on a state of the art 50-meter wide video wall to provide a single access point to ADNOC's real time performance. Using smart analytical models and leveraging cutting-edge AI platforms, it uses Big Data to generate new operational insights and recommend new, integrated pathways to optimize and enhance performance and create additional value. The center aggregates accurate, real time information from ADNOC's operations and businesses, across the full oil and gas value chain, presenting data at a Group-wide level but also giving access to information from individual assets.
The integrated centres are a key part of ADNOC's organisation-wide digital transformation, which will help deliver a more profitable upstream; a more valuable downstream and an economic, sustainable gas supply.
"As a critical part of shaping and securing the future of ADNOC, we will continue to invest in advanced technology, including Artificial Intelligence (AI), and data analytics, using Big Data. By leveraging and driving ADNOC's digital transformation and integration we will further maximize the value of our upstream and downstream operations," H. E. Dr Al Jaber said.
ADNOC is also investing in its people. It has introduced more robust development programmes, for women and youth, designed to provide greater on the job training and mobility opportunities. These programs are supported by a lifelong learning culture, providing a mix of hands on experience and coaching, in addition to structured training.
With an eye to the future, it has created the ADNOC Future Leaders program, an elite program for the brightest and best employees, both men and women, who will ensure that ADNOC builds on its legacy of success and continues to be an integral part of the country's economy and its prosperity.
Through the program, ADNOC will provide its high performing young employees with the knowledge, skills and experience necessary to be successful at the highest levels of the organisation.
Delivery of ADNOC's expanded 2030 strategy builds on three important changes it has made to the way it operates. It has expanded its approach to partnerships, to capitalise on growth opportunities, enhanced its capital structure, to more smartly finance its business, and revised the way it manages its portfolio of assets, to drive performance and unlock lasting value.
ADNOC recently confirmed plans to offer a minimum 10 percent stake, or 1.25 billion shares, and a maximum 20 percent stake, or 2.5 billion shares, in the partial IPO of ADNOC Distribution, its fuel distribution unit. An indicative price range of between AED 2.35 and AED 2.95 per share, has been set. At the top of the range, the IPO would be the largest in the UAE since DP World was floated, 10 years ago.
The proposed ADNOC Distribution IPO, which will be the first time ADNOC has placed shares of one of its subsidiary companies onto the public markets, will offer both UAE and international investors the opportunity to invest alongside ADNOC in one of the region's leading retail brands.