ADNOC Awards China National Petroleum Corporation 8% Stake in ADCO Onshore Concession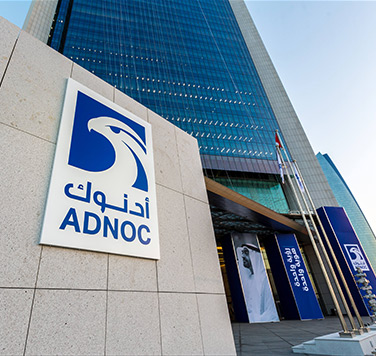 Abu Dhabi, UAE – February 19, 2017
: Abu Dhabi National Oil Company (ADNOC), today, signed an agreement with the China National Petroleum Corporation (CNPC), awarding it an 8% interest in Abu Dhabi's onshore oil concession. CNPC contributed a sign up bonus of AED 6.5 billion ($1.77 billion) to enter the concession. The onshore concession is operated by the Abu Dhabi Company for Onshore Petroleum Operations (ADCO).
The agreement was signed by His Excellency Dr Sultan Ahmed Al Jaber, ADNOC Group Chief Executive Officer and member of the Supreme Petroleum Council of the Emirate of Abu Dhabi, and His Excellency Mr. Wang Yilin, CNPC Chairman. The agreement has a term of 40 years, backdated to January 1 2015.
H.E. Dr Al Jaber said: "Our agreement with CNPC strengthens and deepens the strategic and economic relationship between the United Arab Emirates and China. With our common vision for value add partnerships, we see tremendous opportunity in working together to optimise our energy resources, by achieving maximum economic value, in support of ADNOC's long-term growth objectives."
"This will be a mutually beneficial partnership that will enable us to maintain strong production levels, as, together, we maximise the returns from what is a very attractive, long-term and sustainable opportunity in our onshore oilfields."
CNPC is China's largest oil and gas producer and supplier, as well as one of the world's major oilfield service providers. It is responsible for 52% of China's crude oil and 71% of its natural gas production. CNPC also has oil and gas assets and interests in 37 countries in Africa, Central Asia-Russia, Americas, Middle East, and Asia-Pacific.
His Excellency Mr. Wang Yilin, CNPC Chairman said: "We are honoured to be chosen by ADNOC to participate in this important onshore concession. This landmark agreement marks an important new phase in CNPC's strategic relationship with ADNOC and we hope it will lead to further opportunities to participate in the UAE's energy sector. As part of the agreement to enable the optimal, efficient and sustainable development of the concession, CNPC will play an active role in defining and developing technology applications in mature oil fields by planning to establish a tailor-made technology hub in ADCO."
China, the world's second-largest energy consumer, was a major importer of crude oil in 2016 and often rivals the U.S. as the top oil importer. Beijing-based consultancy SIA Energy estimates China's 2016 crude imports to have risen by 860,000 bpd, or nearly 13 percent, boosted by storage needs, robust gasoline demand and fuel exports.
The UAE is China's second largest trading partner in the Middle East with trade between the UAE and China estimated to have increased to $60 billion in 2016, up from $54.8 billion in 2015. About 60% of China's total trade passes through the UAE, from where it is re-exported to Africa and Europe.
CNPC joins BP of the UK (10%), Total of France (10%), Inpex Corporation of Japan (5%), and GS Energy of South Korea (3%) as participants in the onshore concession and shareholders of ADCO. ADNOC will continue to explore opportunities with potential partners for the remaining 4% stake of the 40% stake, in the onshore concession, earmarked for foreign oil and gas companies.