ADNOC Announces Finalists for Decarbonization Technology Challenge That Honors Innovators and Pioneers Reshaping Global Energy Landscape
Companies delivering carbon capture, AI, hydrogen, renewables, emissions reduction, and nature-based solutions shortlisted from 650 global applicants

10 challengers to attend December final in the UAE to identify winner of a $1m opportunity with ADNOC

The Decarbonization Technology Challenge, launched at UAE Climate Tech forum, is led by ADNOC in collaboration with AWS, bp, Hub71 and Net Zero Technology Centre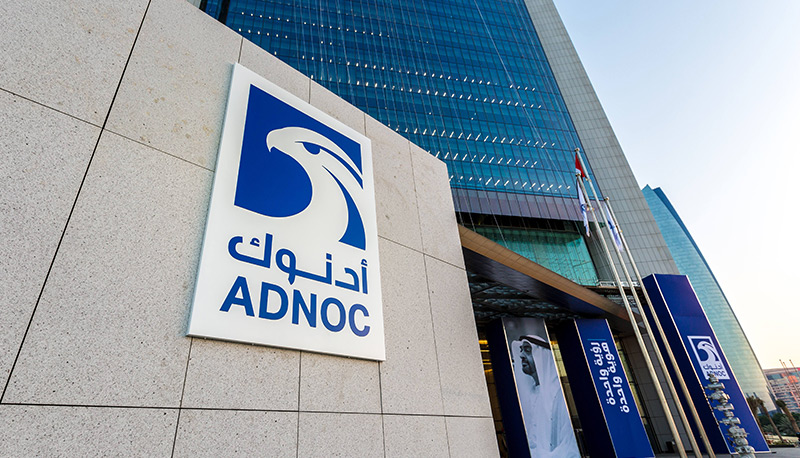 Abu Dhabi, UAE – October 4, 2023: ADNOC announced, today, 10 finalists for its global Decarbonization Technology Challenge, launched at the UAE Climate Tech forum in May, to find innovators and pioneering climate technology companies that will reshape the global energy landscape. The companies have been selected from 650 entries from across 50 countries.

The shortlisted companies specialize in a range of innovations spanning carbon capture, AI, hydrogen, renewables, batteries and nature-based solutions. The finalists are:

• CCU International, a British company developing a pressure-swing adsorption based carbon capture and utilization technology for industrial facilities
• CO2CirculAir, a Dutch company pioneering the capture of CO2 from the air using natural wind
• EmiratiCO2 Group, a UAE company specializing in direct air capture coupled with desalination plants for CO2 mineralization
• Active Surfaces, a United States company producing ultra-light weight flexible solar films for the built environment
• Desolenator, a Dutch company pioneering a circular solar thermal water desalination system
• Basetwo AI, a Canadian company using cognitive AI to reduce emissions from downstream oil and gas operations
• Oxford Flow, a British company producing control and stemless valves to eliminate fugitive emissions
• Revterra, a United States company producing kinetic batteries to help decarbonize remote operations
• Nunafab Corp, a Canadian company innovating composite pipe technology for safe and efficient hydrogen transportation
• Oxygenate Bamboo, a UAE company establishing plantations with genetically modified bamboo saplings to maximize CO2 sequestration

Sophie Hildebrand, ADNOC Chief Technology Officer, said: "Across ADNOC, we are leveraging technology and partnerships to help us achieve our Net Zero by 2045 ambition. The ADNOC Decarbonization Technology Challenge has served as a magnet, attracting hundreds of global innovators to us. Every company on this shortlist is a game changing pioneer and I look forward to meeting each of the finalists in the UAE at the end of the year."

Contestants will pitch their innovations in the UAE in December. The winning company will receive a US $1 million pilot opportunity with ADNOC as well as development support at the state-of-the-art ADNOC Research and Innovation Center (ADRIC). The ADNOC Decarbonization Technology Challenge is supported by Amazon Web Services (AWS), bp, Hub71, and the Net Zero Technology Center.

ADNOC is accelerating the decarbonization of its business as it reduces the carbon intensity of its operations by 25% by 2030 and moves towards its Net Zero by 2045 ambition. Its decarbonization plans are backed by an initial allocation of $15 billion (AED55 billion) towards low-carbon solutions, new energies and climate technologies.
# # #