ADNOC to Deploy Repurposed EV Batteries to Decarbonize Operations and Reduce Costs
Innovation expected to cut carbon dioxide emissions by up to 25% and halve energy expenditure in remote drilling operations as part of ADNOC's net zero by 2045 ambition

In partnership with Power I.D., pilot will curtail diesel power generation in remote locations through use of reused EV batteries

ADNOC establishes UAE's first Battery Center of Excellence to spearhead research into promising new cell technologies and future battery energy systems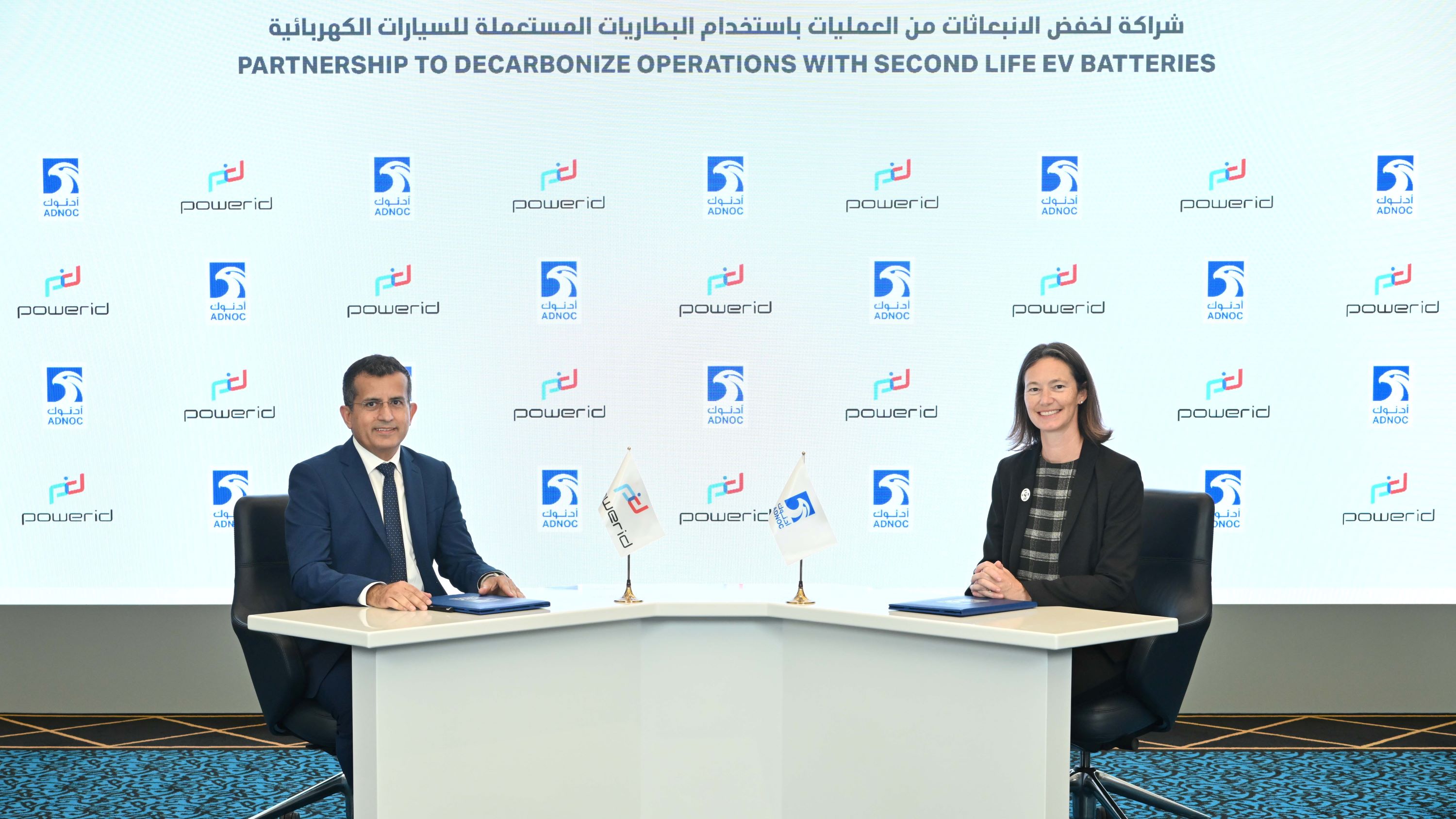 Abu Dhabi, UAE – October 4, 2023: ADNOC is to trial the use of repurposed electric vehicle batteries to decarbonize its remote production operations and reduce costs. The pilot, run in partnership with German startup Power I.D., will see electric vehicle batteries deployed that would have otherwise been disposed of and assembled into a large-scale Battery Energy Storage System.

The system, which will be built in the United Arab Emirates, can hold up to two megawatts (MW) of power within a single 20-foot storage container. Each container will be mobile, allowing for deployment to remote sites.

The Battery Energy Storage System will reduce reliance on diesel generators to power remote drilling rigs. It is estimated the system will cut the carbon emissions of remote drilling rigs by up to 25% and reduce their energy expenditure by 50%.

To support the long-term development and deployment of Battery Energy Storage Systems, ADNOC has established the UAE's first Battery Center of Excellence. Located at the ADNOC Research and Innovation Center (ADRIC), it will spearhead research into promising new cell technologies and future battery energy systems.

Sophie Hildebrand, ADNOC Chief Technology Officer, said: "Leveraging innovative technology and partnerships is a key pillar in ADNOC's strategy to achieve net zero emissions by 2045. The Battery Energy Storage System is a cutting-edge innovation that will enhance efficiency and allow us to continue decarbonizing our operations."

The Battery Energy Storage System utilizes advanced electric vehicle technology. It comprises 24 second life electric vehicle batteries joined together using silicon carbide convertors. Each system contains a combination of high performance and high energy cells to provide rig operators with dynamic and versatile power output and uses disruptive liquid cooling technology, instead of conventional methods, to enhance efficency and lifespan. An autonomous control system ensures optimal energy management.

Naser Abu Daqqa, Founder and Managing Director, Power I.D., said: "This Battery Energy Storage System is unique for its high energy density. Together with ADNOC we have developed a system that packs in two megawatts per hour within a 20-foot container. The compact nature of the system will allow for convenient deployment to remote locations, helping ADNOC to cut emissions from its off-grid production activities."

ADNOC is accelerating the decarbonization of its operations as it reduces the carbon intensity of its operations by 25% by 2030 and moves towards its Net Zero by 2045 ambition. Its decarbonization plan is backed by an initial allocation of $15 billion (AED55 billion) towards low-carbon solutions, new energies and climate technologies.

# # #